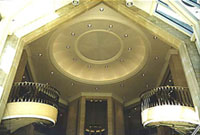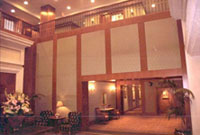 A unique proprietary method for applying fabric finishes over walls and other surfaces WITHOUT BONDING, for exceptional ACOUSTICAL, INSULATING, RENOVATING and DECORATING solutions.
FABRI-LOK® SYSTEM provides one of the best engineered and most complete lines of "Stretched Fabric Retainer Track" systems available for applying fabric over wall and other surfaces. Custom becomes standard for perfect site fitting with a variety of square, beveled, radiused and monolithic edge treatments available. The System handles a wide range of fabrics and selected vinyl finishes with speed and ease.
FABRI-LOK® acoustic pillows and banners are factory made fabric/vinyl covered rigid and soft baffles and panels for vertical and horizontal applications.