Finding Ideal Solutions for an Open Work Space.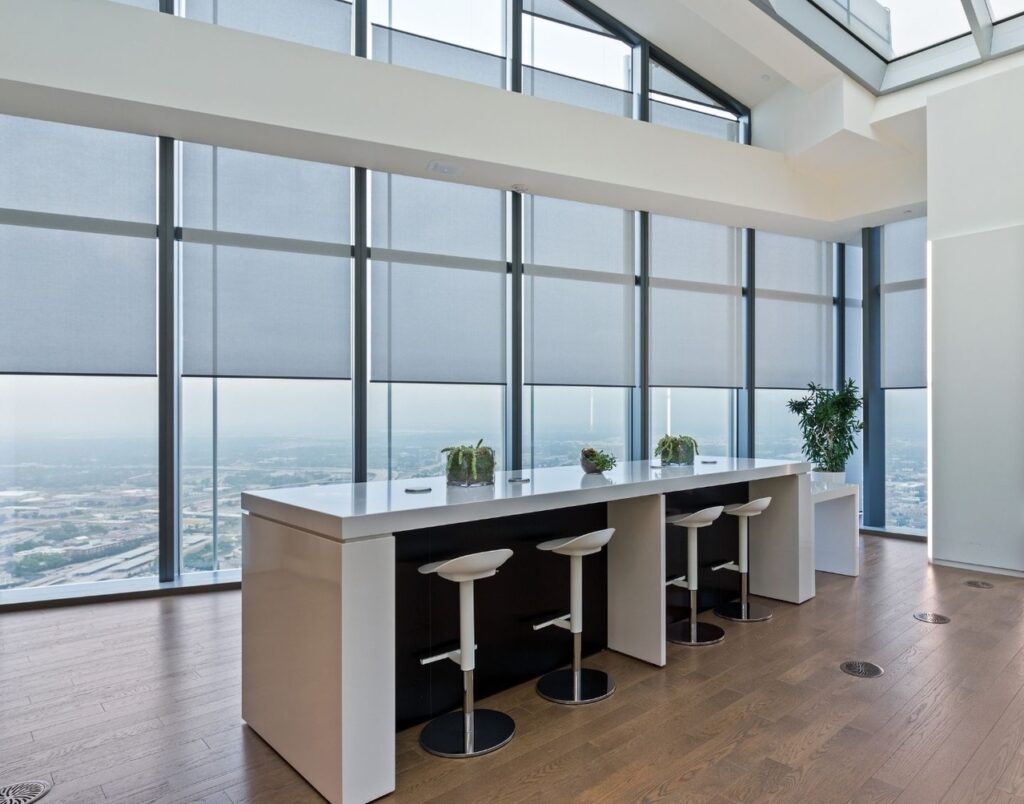 Open work spaces make the most of a modern design elements and help to reduce communication silos… but they can also be very noisy.  Often these themes are comprised of some combination of glass, metal, concrete or tiles offering large areas of reflective surface and very low sound absorption properties.  This type of design in particular creates a perfect platform for all the "noise" related concerns to be amplified.
Finding the right acoustic and decorative solution…it may be easier than you think
One of the biggest challenges with acoustic materials being given their due consideration in design, is that in many cases the importance of the room acoustics is grossly underestimated before occupancy and operation within the space.  Sometimes the space is pre-existing and needs to be re-envisioned in order to comfortably sustain the desired acoustic temperment of a room.   It may help to consider what benefits you can realize by doing an acoustic tune-up. 
ACOUSTIC treatment provides a better WORKING and LEARNING experience and increases productivity:
Noise has a major impact on productivity: quite simply, people find it difficult to work in a noisy environment. Concentration can drop by as much as 71%c. Absolute silence is certainly not desirable either in most scenarios, as the slightest noise is then amplified. An ideal work environment should strike an optimal balance between sound and silence. Designing for good acoustics depend on compound of factors and elements, such as the reverberation time and how the space is intended to be used.
It is possible to increase ACOUSTIC INSULATION value without demo of the existing areas:
Architectural felt has natural sound deadening, acoustical dampening, and aesthetic properties that make it an excellent choice for architectural applications.  The new felted products possess excellent sound-insulating properties. Comprised of antistatic materials, these materials are naturally resistant to airborne dust, and soiling and therefore can be an ideal choice for a restaurants, noisy public areas or your home office. The range of sizes, shapes and colours available allow for maximum design flexibility and will meet the artistic and aesthetic requirements of your project, whether you choose a standard or custom solution. 
These adaptable and versatile products can be attached directly to the surfaces that are pre-existing, be added to desks or back boards, suspended from the ceiling or installed against glass, or simply free standing elements of separation or decor where they will bring maximum benefit.  
eKōR provides a vast opportunity to customize :
eKōR by Wallworks product series delivers custom product flexibility for every type of acoustic scenario and budget.  
These stylish felt acoustic products can be fully customized in accordance with your vision, and design requirements in terms of size, color and detail.   What's more, some products (such as Wallwork's eKōR's product series) are made up of 100% environmentally friendly recycled materials and carry a commitment to innovation to meet the latest design trends in a sustainable, responsible manner. 
In addition to the many and varied tiles and styles eKoR offers maximum design  flexibility, limited only by your own vision.  Standard offerings range from simple to complex and provide solutions suitable for most styles and applications, all within very cost sensitive budgets.    eKōR standards are available from within the following groups of product:
3mm available by roll or piece quantities 20 colors
9m, 12mm and 24mm Available in 80 colors
Can be mounted on walls and ceilings, with various combinations of hardware & adhesives
9mm, 12mm and 24 mm Cut to size: Wallworks uses CNC and laser technology to cut these molded "fabrics" in all possible shapes without fraying them, based on your PDF or DWG files.
eKōR  MoRe & Bring it to form :
Discover the range of colours, cuts, articulated textures, embossing, printing, laminating… Wallworks specialists are ready to bring your dreams into form, for every custom request, including specific production, and complete turnkey installations. 
If you have any questions about acoustic applications with eKōR products, or would like a quote for an acoustic solution, connect with one of our specialists today!