Laser Cut Panels... sleek and sophisticated
Entire walls and/or ceilings can be completed with perforated panels and acoustic backing to achieve the desired level of noise control. These sophisticated panels can be combined with LED backlighting integrated into the acoustic elements. Some of our beautiful Bruag custom decorative panel products, also now include hepa air filtration systems.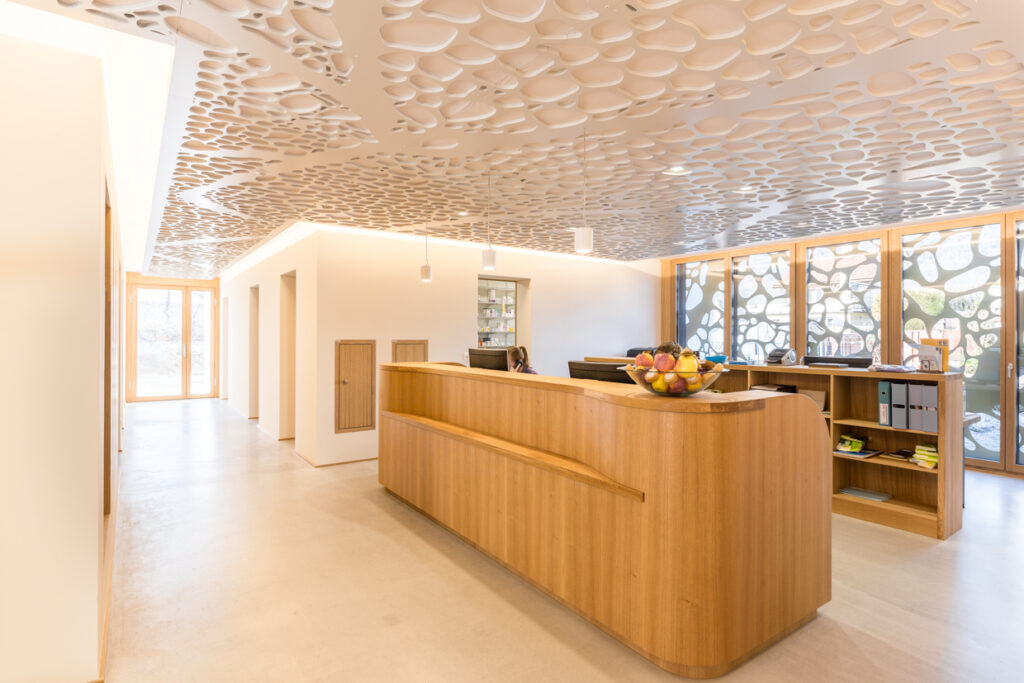 For today's innovative designs and architecture, individual solutions are vital.
Using laser technology, Bruag's sleek production offers designers maximum flexibility, color range and degree of detail possible comparative to products produced by a CNC machine. In addition to the flexibility regarding the shape of your panel and color, customized perforations make it possible to produce the exact product to meet the design vision.
Maximum design customization is at your fingertips!
New interpretations of historic patterns or completely new ornamentations and perforations that have never previously been seen can be produced in almost any dimension using digital input information (dxf, dwg).
It is possible to achieve your fully customized vision
 In addition to the flexibility we offer regarding the shape of your panel, we also offer over 3000 different colours (RAL, NCS S, Bruag Alu, Les Couleurs® Le Corbusier). Customized perforations, individual size make it possible to achieve the exact product you need to realize your vision.
... and open concepts without sacrificing acoustics
Open concept design has been the trend for todays sleek minimalist styles but acoustics are often sacrificed to achieve this look and feel. The experience in historic rooms it is often not much better: the design elements predominate. The system Bruag has developed provides numerous options for every type of room, providing freedom to adapt to different styles. 
The ceilings and walls are all brought into play when it comes to improving the acoustics, producing positive auditory and visual outcomes. The acoustic results are proven and verified through testing to achieve outstanding absorption rates. 
In contrast to to other room acoustics solutions, Bruag's system creates an optical highlight. The panels are produced exactly in line with your wishes, and your individual needs (such as holes for speakers or lights) which are built into the production design. 
Focal highlights in unexpected areas
Use Bruag panels to create highlights in unexpected areas by combining the sophisticated custom patterns with lighting.  This product pairs beautifully with todays lighting innovations and creates both movement and illumination in small otherwise more difficult areas or entryways.  
Swiss engineered and developed the "Virus Catcher" is designed to make open-plan offices safer, while adding acoustic improvement and beauty.
Acoustics, design and hygiene ideally combined in a mobile room divider: The Noise-Virus-Catcher by Bruag cleans the air in open-plan offices continuously and filters out viruses, germs and pollen. Moreover, the modern, flexible partition wall ensures perfect room acoustics and adds beauty. New solutions provide optimal performance.
Appropriately named, Bruag's Noise-Virus-Catcher displays the companies signature product beauty as well as its multifunctional nature.

Because acoustics, design and hygiene are combined in this 140-mm-thick, flexible room divider. The free-standing and mobile partition wall has two metal feet and perforated wooden elements on both sides. Easily accessible, but hardly visible, it is equipped with two clinical grade Hepa filters that meet the highest medical requirements. These filters remove all kinds of viruses and allow pollen allergy sufferers to breathe a sigh of relief. The blind built-in fan circulates the air drawn in from both sides and lets it back into the room without germs, viruses or pollen. The multifunctional, perforated room divider is additionally insulated for sound absorption and is made from natural wood with white coating. It is available in standard and custom sizes.
How Bruag Laser Cut Architectural panels are used:
Download our corporate brochure!
Sound Advice, Design, and Solutions...
Request Information Today
Our team of product experts are available to answer your questions, supply technical data and provide project quotations.   
Explore More