Acoustics for the Workplace
Sound Management benefits…
"Sound management" is an extremely important, but often overlooked, contributing factor in today's open concept office. Unsolicited noise is not only annoying but it can also distract your employees and even result in serious health problems.
Fortunately, with the addition of acoustic materials you can integrate as the use of the space evolves and changes with your business model and the current trends, there are ways to mitigate the overarching issues, for almost any setting. By using complimentary acoustic sound panels and products, you can greatly improve the quality of life in your workspace, the productivity and the customer experiences in ways that you may not have imagined possible.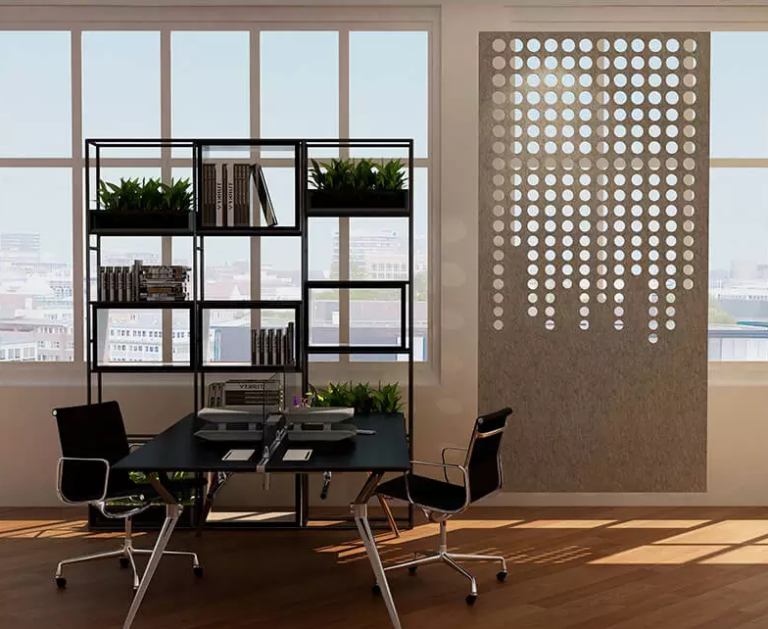 How can I soundproof my office?
Excessive noise can significantly decrease the productivity of employees and cause considerable disruption to workflow, as well as cause increased blood pressure, anxiety and a range of other health issues which in turn can contribute to absenteeism and attrition. This is particularly true for large, bustling offices. Integrating acoustic materials and soundproofing into the décor of your office space is a must if you wish your employees to stay healthy and be optimally efficient.
WALLWORKS can help you keep the noise levels in your office at a minimum by providing you with high-quality and innovative soundproofing and acoustic solutions. Our acoustic panels can make any work or home environment a more pleasing environment by limiting, filtering and redirecting unwanted noise and by controlling reverberation and echo. There are so many different and varied soundproofing and sound management methods that are available, many of which are simple enough for the DIY specialist and handyperson!
What do acoustic panels do?
To put it simply, acoustic panels are designed to reduce noise by using the process of sound-wave absorption or filtering. Under typical conditions, sound travels through a space until it encounters resistance. Once it comes into contact with a surface, it bounces off of it and continues to travel in another direction. Sound is more likely to bounce around in a room with today's sleek smooth, shiny, and hard surfaces, such as concrete, glass, stone and tile.
By introducing soft, sound-absorbent materials, you can reduce the amount of background noise, bouncing soundwaves, and echoes. These noises that are organic to day to day activity, include but are not limited to people talking, office equipment, heels on the tile floor etc.   Acoustic panels are specifically created, designed and tested to achieve high levels of sound absorption and to considerably improve sound quality in any environment.   Acoustic comfort doesn't mean silence, but it does introduce elements that are desirable such as a sense of privacy in conversation, ability to focus, and reduction of the stress levels caused naturally as part of our human response to unwanted noises.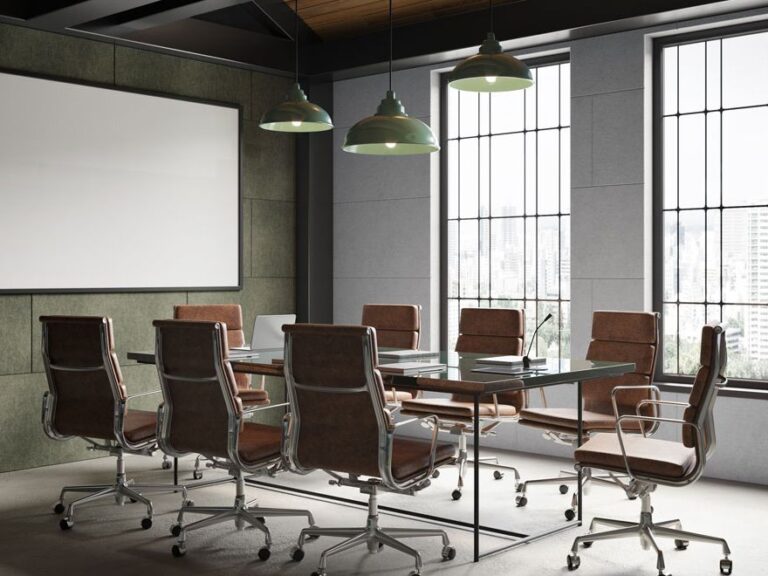 Can acoustic panels keep sound in?
As previously noted, acoustic panels are designed to absorb sound inside of the room they are installed in and improve the experience of the people occupying that space. They may very well help to reduce the volume of unwanted sounds coming from the outside, they are not meant to block such noise completely. They will prevent much of the sound within your space from leaving your area, and travelling into hallways and other areas, but the best way to ensure that the walls to your office do not allow a lot of noise in either direction would be to integrate sound proofing membranes into the wall cavity. This may not be in the cards for you if you rent or lease your space, or if construction was completed long before you occupied it.
What your acoustic panels will do, is dampen unsolicited sounds and minimize distractions in your space, and enhance the productivity of your team thereby boosting your business success.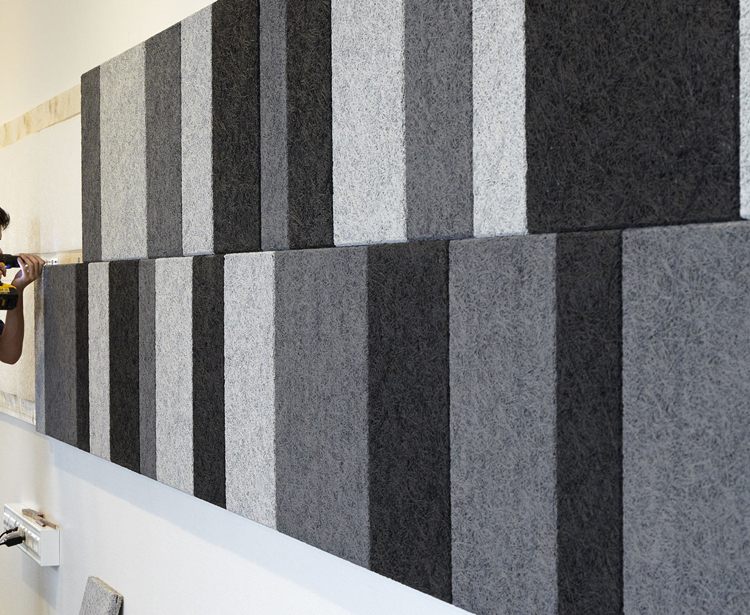 How will I know where to place acoustic panels?
If your sound / noise problems are significant, you may wish to engage the assistance of an acoustical consultant to assess the space and make recommendations. Some of this however, can be fairly straight forward if you consider the surfaces that are likely to be the culprits for reflection. Here are some general guidelines you can use to begin with:

• Standing at various points in the rooms affected, (with no other noise distractions present) clap your hands together loudly. Listen to the way the sound moves or echo's back, and at which points there is the greatest feedback.
 
• Install your panels symmetrically following primary patterns and minimizing the changes in spacing if doors, windows, or any other objects are in the way. This way, the panels will be balanced in your office space, ensuring efficient sound absorption.

• Space your panels out to improve their efficiency. Acoustic boards become less effective if they are installed on just one wall without spacing for example. Instead, perhaps install them on parallel walls with sufficient space between them or create patterns of design using acoustic tiles that can pick sound across a larger area.
 
• Place them at the correct height making sure not to place them too far above the eye level or too close to the ground. The sound will travel in a variety of ways, however in direct flow they will be most significant. You may decide that the ceiling is also reflective and elect to use an acoustic treatment suspended from the existing structure.
So then...What are my choices? With so many different types of acoustic panels that can significantly improve the auditory experience within your work area, business, studio, study, fitness space or home office you can create the space that will work perfectly for you.

Any of the following solutions can result in happier occupants, greater sense of privacy, and improved wellbeing overall: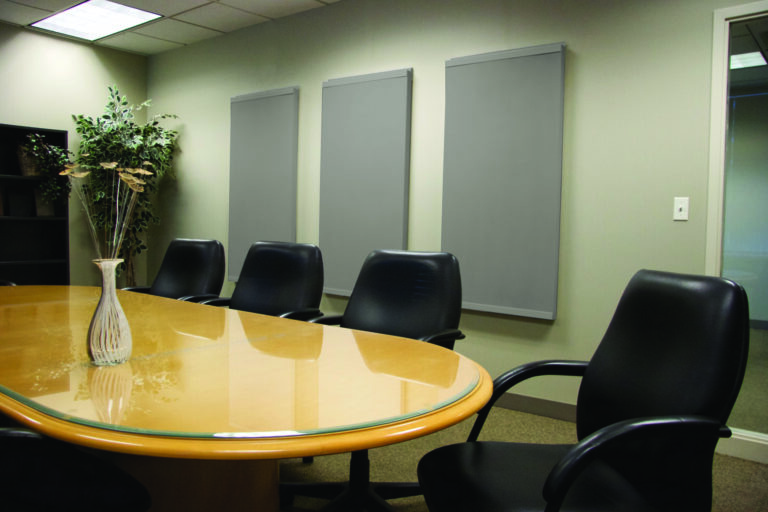 One way to lower the ambient noise in a room is to make the walls surrounding the space more sound absorptive. The simplest way to achieve this is with the addition of wall-mounted acoustic panels. These panels can come in several different options.
1. Square acoustic tile or rectangular flat panels
If you are looking for cost effective sound absorption with minimal decorative flare? Perhaps monotone square acoustic tiles or rectangular panels might be the best approach. This application is easy to install and minimizes costs so, this may be the first option one might consider to reduce sound levels in a room where unwanted noise is an issue. Finally, with a sense of design and good taste, this type of application can lend a modern minimalist splash of color and personality into any room. Here are some examples of how this might look: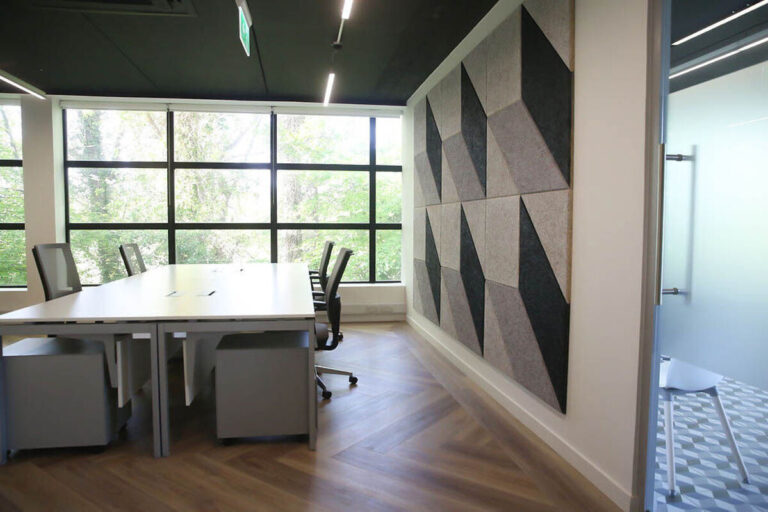 2. Creative premanufactured panels
Similarly, if sound dampening is not the only concern, acoustic treatment can create distinctive design statements. If this is your objective, there are countless selections of wall-mounted tiles and panels in shapes and forms that are also varied and many, and are readily available. Acoustic art panels are a great example of this. By printing an image they can be placed like artwork, to easily suit the tempo, look and feel of the room. In a simpler application you can choose geometric forms, varied textures and a rainbow of color options. 
These panels and tiles must never the less, be placed strategically to simulate the natural timbre of the rooms existing décor and to receive the direct flow of sound.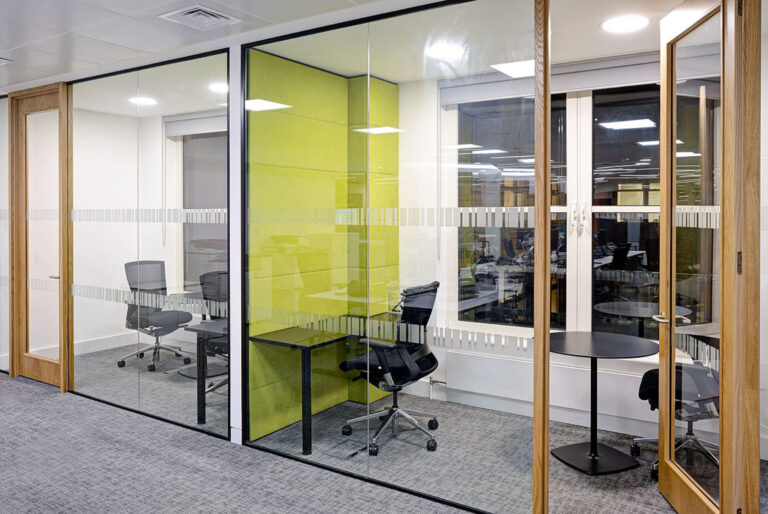 3. Custom decorative tiles
There are certainly always the highly custom looks and there are materials that offer the desired flexibility. Acoustic Materials, clouds, wall panels and even tiles can be custom tailored to fit the space or requirement. In actual fact, there are really only budgetary and manufacturing time limitations to the range of options available.
Acoustic Ceiling-Mounted Solutions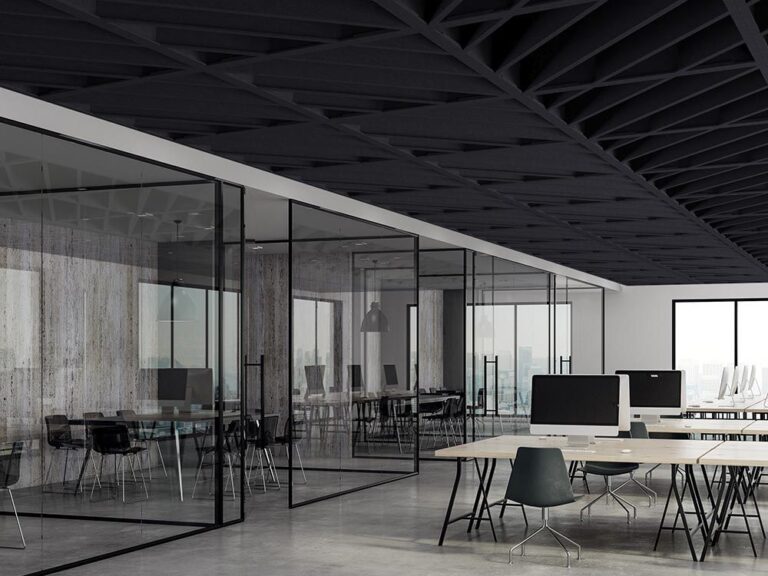 A current and popular approach involves the use of ceiling suspended or installed systems. Whether these are used alone or as part of a system integrated with wall panels and other acoustic elements, ceiling mounted acoustic treatments can greatly reduce noise in large rooms or conference rooms, work areas or lunchrooms.  By  placing sound diffusers, suspending baffles or clouds strategically around the ceiling you can improve the overall sound level in the room.  You can be as creative or as subtle as you wish, because as with wall panels, the options are really quite unlimited.  
Whichever concept or product you select, you can count on achieving a significant improvement and a more comfortable work environment in your office with some very basic applications.
We bring you the best of the best
When it comes to improving sound, the possibilities are truly endless.   Which ever product you decide to integrate, consult with professionals.  At Wallworks, our in house product experts will take all the necessary steps to develop a perfect plan to fit both your décor, acoustic needs and your budget.   Many of these applications can be installed with almost zero down time in work areas.   
Almost every space could benefit from sound reduction. Wallworks sound reduction product specialists are available to help you find the perfect fit. Moreover, we are your go-to company for architectural specialties and acoustic solutions across Canada and have been for more than 40 years.  We continue to source products that offer the latest technology and on trend with today's design needs. 
Reach out to us today! Wallworks, for all things acoustic, waiting to serve you.
Explore the range of products available today.  Download our corporate brochure!
Sound Advice, Design, & Solutions...
Request Information Today
Our team of product experts are available to answer your questions, supply technical data and provide project quotations.   
Explore More