Acoustiblok Soundproofing Material®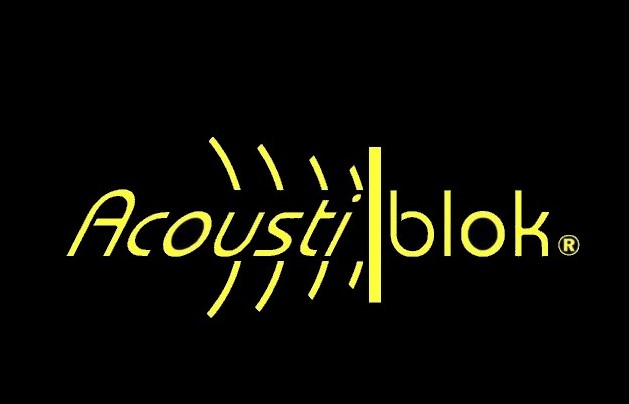 Acoustiblok®  is considered to be the premiere choice for sound isolation and is made completely with Recycled Materials and Nontoxic Chemicals.
Acoustiblok® is an exceptional mass loaded vinyl (MLV) membrane which is used as a form of sound isolation. It is typically installed at framing stages, before walls, ceilings and floors have been completed, thereby enhancing the Transmission Loss (TL) of these standard assemblies.


Viscoelastic Polymer Material
This hard working product is used as a sound isolation material. It is typically installed before walls, ceilings and floors have been completed, thereby enhancing the Transmission Loss (TL) of these standard assemblies.
Acoustiblok is a U.L. Classified (UL # CLBV.R21490), viscoelastic polymer that comes in two forms. The first is Blok16, a 1/8th" thick sheet with a weight of 1 pound per square foot. The second is Blok32, a 1/4″ thick sheet with a weight of 2 pounds per square foot.  Both are made from recycled plastics and non-toxic minerals that are mixed and pressed into a membrane sheet.
These sheets are then trimmed to a standard size of 54" wide x 30' long and rolled up for easy transportation. The rolls weigh roughly 135 pounds each at this size. You can also order longer rolls ranging from 60' long (at 270 lbs.), to 350' long (at 1,575 lbs.), should you have a project with a larger area in need of treatment.
Patented Acoustic Barrier  
Is it a barking dog? A squawking parrot? Or maybe some cats that just won't be quiet. These are just some of the pets that we all know and love. But when it's not yours at midnight, it would be nice to not hear the sound of your neighbors animals. Acoustiblok has the answer to quite those noisy animals.
Acoustifence (AF-6) is a handy material to make all neighbors happy ones! Acoustifence is an amazingly simple product. Acoustifence is a UV tolerant, flexible, mold resistant, ¼" thick material that has an STC 28. It is used to block unwanted noise levels from reaching a particular point of complaints. All you need is a chain link fence and you are off and running. Acoustifence can have mounting grommets placed in the leading edges so you can strap it directly to your fence structure, (please reference our installation guidelines for specifics). Acoustifence is easy to disguise by strategically placing it between fencing materials or planting some foliage directly in front of your Acoustifence. Common wooden fences can also be outfitted with Acoustifence as well.
Acoustifence®-Noise Reducing Fences- Acoustifence AF-6 is a patented, highly effective, yet simple to install outdoor acoustical barrier. The UV and mold resistant qualities of Acoustifence make it uniquely suited to outdoor use. You can also paint it to blend into any environment.
So, if you love animals but hate the disturbances they can cause at inconvenient hours contact us directly to speak with an Acoustifence specialist at Wallworks.

Download our corporate brochure!
Sound Advice, Sound Design, Sound Solutions...
Request Information Today
Our team of product experts are available to answer your questions, supply technical data and provide project quotations.   
Explore More